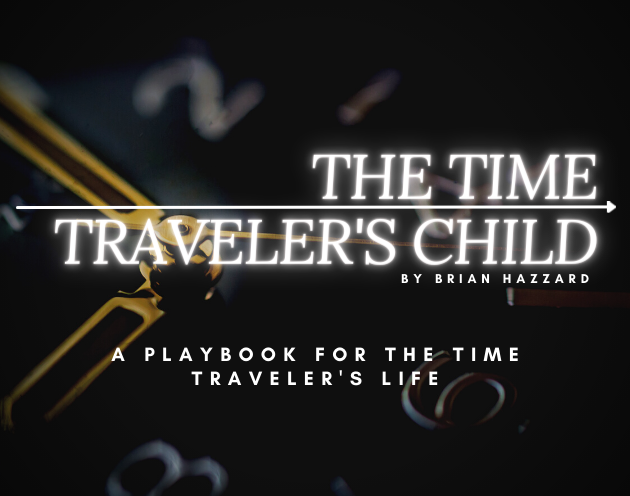 The Time Traveler's Child
One of your parent's suffered from a mysterious ailment where they would uncontrollably become detached from time. They ultimately succumbed to the dangers of time travel, and died tragically, but not before having a child, you. Now scientific progress has demystified the rare disease known as Solutus Tempus, and a cure is available. Through research, it is also now possible for those suffering from the illness to take small items with them on jumps.

And so you hatched a plan to give your parents an impossible gift, a life lived together in the same direction. You've infected yourself with Solutus Tempus, and have 4 doses of the cure. You'll fall through time hoping to land in the same moment as your time afflicted parent, cure them, and return safely to your present to cure yourself.
This is your story.
The Time Traveler's Child is a playbook for The Time Traveler's Life by William Lentz that adds a third player to the game. This player will take the role of the child of the Time Traveler and their Significant Other. To play you will need 3 players, a copy of The Time Traveler's Life (https://gamenomicon.itch.io/the-time-travelers-life), a d20, and three d6s (one for each player).

This game was an entry in the Finish your Damn RPG jam https://itch.io/jam/finish-your-damn-rpg-jam and the One Page RPG Hackathon 2021 jam https://itch.io/jam/one-page-hack-a-thon-2021.
SHAMELESS PLUG: If you are a fan of these kinds of games, you'll love what I have in store for season 2 of Instadeath Survivors Support Group. Subscribe now so you don't miss the awesome! Listen to the Podcast. Watch on Youtube.

Purchase
In order to download this game you must purchase it at or above the minimum price of $2 USD. You will get access to the following files:
The Time Traveler's Child - screen.pdf
1,010 kB
The Time Traveler's Child - print.pdf
141 kB
Exclusive content
Support this game at or above a special price point to receive something exclusive.
Community Copy
If you wanna try this out but don't feel like you can justify spending money on it right now... grab a community copy and enjoy!
I put up 100 initially, and I add an additional copy for every paid sale.